Biography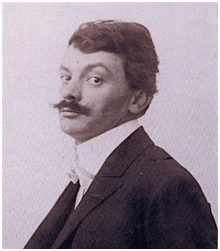 Kolo Moser
The painter, graphic artist and craftsman Koloman Moser was born March 30, 1868 in Vienna.
At age 17, he passed the entrance examination at the Academy of Fine Arts. As early as 1888, at the age of 20, Moser began calling himself Kolo and worked as an illustrator and drawing teacher. He remained a student at the Academy of Fine Arts until 1892 when he continued his education at the Austrian Museum for Art and Industry. 
In 1897 Moser was included in the "Vereinigung bildender Künstler" at the Vienna Künstlerhaus. A year later he co-founded the Vienna Secession and frequently contributed to its publication Ver Sacrum. By 1903 he had designed 140 illustrations for the magazine. He designed the façade decoration and a glass window for the newly opened Secession Building. Kolo Moser's "Allegorien" were used at Otto Wagner's private residence and office. He also went on to design fabrics for the producer Backhausen.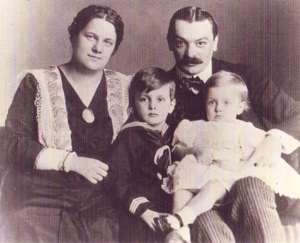 KM with his wife Ditha and their two children
From 1899, the Moser taught and a year later became a professor at the Vienna School of Applied Arts. He would go on to teach there for the rest of his life. He worked with famous artists of his time including Carl Moll and Josef Hofmann. Hoffmann also designed the famous "Hohe Warte" Jugendstil residence that Kolo Moser moved into around this time. The furniture was designed by Moser himself. 
In 1903 Moser together with Josef Hofmann and Fritz Waerndorfer founded the Wiener Werkstätte. Together they designed interiors, furniture, jewelry, leather and metal goods as well as toys. He also continued to be in charge of the room and catalogue design for the Wiener Sezession. The artist also designed the interiors for the Purkersdorf Sanatorium and the fashion house for the Flöge sisters.
In 1905 Moser, together with the so-called "Gustav Klimt group", left the Vienna Secession. He married Ditha Mautner v. Markhof with whom he had two children. In December he and Josef Hoffmann exhibited Wiener Werkstätte creations at the newly-founded Gallery Miethke.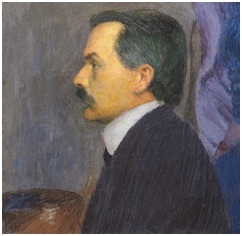 Self-Portrait around 1910
In 1907 Kolo Moser's artistic differences with Fritz Waerndorfer caused him to leave the Wiener Werkstätte. He traveled with his wife to Venice and returned to painting which he had abandoned in 1897 in favor of design. His painting retained the decorative spirit of turn of the century Art Nouveau. However, his style changed radically under the influence of impressionism. During this period Moser particularly admired Swiss painter Ferdinand Hodler whose influence can be seen in many of his landscapes. In 1911 Kolo Moser presented 53 paintings at Gallery Miethke.
In the last years of his life Moser designed theatrical sets for plays and operas and designed stamps. He exhibited in Rome, Mannheim and Budapest, as well as at the Vienna Art Show of the Berlin Secession.
On October 18, 1918, Kolo Moser died of cancer.
His internationally recognized reputation lies in his unique contribution to the fields of painting as well as arts and crafts.